Prelude: Had the idea to get really high, like really really high, and watch WWE RAW yesterday. Had a hybrid in case anybody is curious.
In white are my actual thoughts I was writing while watching, in blue are things I added to help readers follow along at what point of the show I'm watching (and added in some screenshots too)
==================================================================================
Okay so I had this idea super stoned right after Reigns came out to talk to Wyatt and have a little chit chat. So pre thoughts, Bray Wyatt, god on the mic. Roman Reigns, don't have an opinion can only think of the song of the guy singing about his wet hair and stuff. Fatal Five-Way, totes good. I don't know why people are complaining, I liked it. Had me on the edge of meh seat.
Why is it taking so fucking long for Reigns to get down to the ring? I've had like 5 bites of this sandwich from the time he first came out to the time he FINALLY gets into the ring. OH MY GOD ROMAN REIGNS GET OFF THE TURNBUCKLE AND GET INTO THE RING SO WE CAN GO ON WITH OUR LIVES OMG
I love Bray Wyatt's character so much. Only guy who could continuously lose big matches and somehow get better momentum.
Been like 5 minutes and Reigns hasn't said shit
THERE'S ONLY ROOM FOR ONE BIG DOG IN THIS YARD (Reigns smacks Wyatt out of the ring)
I am P surprised by Samoa Joe winning. I'm not ecstatic with it but I'm not mad about it. Pleasant twist but I wonder how the Samoa Joe vs Lesnar will work in terms of promos and shit. They are kind of the same character. Everytime I look back to the match (barely paying attention right now) they're in a headlock on the ground. Every time. Okay I'm skipping forward towards the end of the match
It's still the big dawgs yard. Woof woof
Idea for drinking game during Great balls of fire
Drink when: they mention Jerry Lewis or the song Great Balls of Fire
Drink whenever somebody references an inferno match
They should have saved the Extreme Rules Hellfire theme for Great Balls of Fire
How I would book Big Cass's heel turn: It turns out it's him who's been attacking Enzo. They're in the ring together during their usual stuff. Go on about Enzo's injury and kind of copy the promo they had when he came back from his concussion. When he goes to say, "if I had a dime for every time I got knocked down and didn't come up again…." Does the air math thing. Right before he yells "No DIMES" Big Cass grabs the mic and says "ONE DIME" and lays him the fuck out. And walks out.
FIN
and by FIN I mean end not Fin as in Finn
I'm kind of disappointed by Bliss vs Bayley. I get the whole hesitation thing, and figured they would do that that's why I picked Bliss (besides the fact I love her). But I feel like Bayley didn't hesitate enough. I wanted her to try and swing but stop at the last second, then toss it away.
Bliss is the best on the mic of all the woman (Sasha is 2nd Becky is 3rd) and definitely top 5 in the company overall.
Hey look it's Jon Moxley
Cuts too Elias in the ring with his guitar
It was barely funny when the Rock did it Elias, please no.
Outright skipped this match, I know Miz is on the screen doing shinnanigans but I'm skipping. Please don't do the Ambrose won't leave the arena storyline of last year.
The constant freeze frame highlights of ppv's they do on tv is not doing me well this stoned.
Who's the face in this Samoa Joe vs Lesnar thing?
Wait did Paul Heyman drop a jew bomb?
It's freaking me out how fast Paul Heyman is talking
Heyman doing overtime on putting Samoa Joe over god damn.
This was right when I peaked on my high. I had looked away at my phone and heard a loud pop (it turned out to be Joe throwing is mic down) i thought it was the speakers in the stadium blowing out, and when I looked up Joe was talking in Heyman's ear in the corner.
WHAT THE FUCK IS GOING ON RIGHT NOW
WHAT THE FUCK I'M SO CONFUSED
WHAT'S HAPPENING
I'M TOOOO STONED FOR THIS
I'M LOST AND SCARED
WHAT THE ACTUAL FUCK
I'M SCARED
KOKINA CLUTCH
Jesus Christ what has happened? Did the speakers go out or something?
Ooooh TNA reunion feud between Kurt and Samoa, through in AJ Styles and Tyson tomko and it's 2006 again
TJP reminds me about every OC stoner wanna be I went to High School with
Neville should have bad news instead of unfortunate.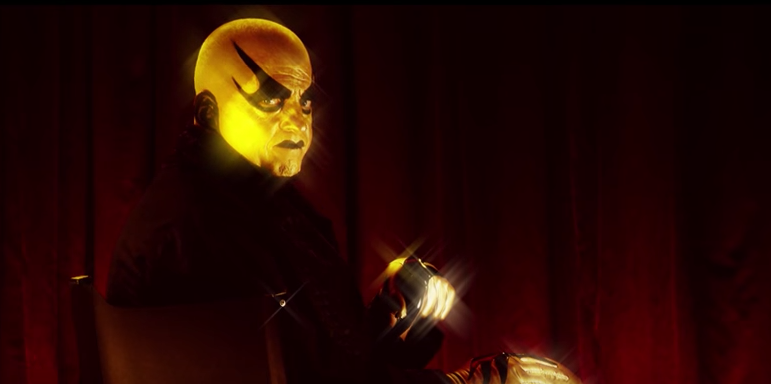 No goldust too high for this right now
d'aw Alexa Bliss reminds me of a lot of girls I went to HS with. Wait, is Alexa Bliss making another Welcoming Committee (IT'S NOT EVEN THAT GOOD ON SD PLEASE DON'T DO IT AGAIN)
Kurt Angle you fucking nerd let the man talk on air. He looks like a giant thumb in a suit
DASH AND THE OTHER GUY. Is this their new gimmick?
I hope Kalisto was dancing and jumping the entire time during that little cut away
Michael Cole said krunk and lit in the same sentence and it killed my high instantly
I'm really liking Crews and Titus.
AND ER MAH GERD PLOT TWIST YO. I'm happy Cass and Enzo aren't splitting up. UNLESS IT'S ALL A RUSE. Maybe Enzo is turning heel?
LOOK HOW WET CASS'S HEAD IS. IT MUST OBVIOUSLY BE THE WORK OF ROMAN REIGNS
People with Gold Chains: Enzo, Mr. T, FLAYVAFLAVE, Hunico & Camacho, Goldust probably, Carlito's body guard Jesus (+1 if you get that reference). Oh shit Big Cass bee all insinuating. Hmmm, I am intrigued, and fully emotionally invested.
Miz and Maryse celebration, Hotter than the live sex celebration let's be honest. Dancing bear is Dean, come on let's go forward with this.
Realize the bear isn't Dean Ambrose
I hope the bear is a recognizable face. MARTY JANNETTY
Ah man was hoping for Marty Jannetty
Maybe he'll be in the box, I'm not sure if I mean Jannetty or Ambrose at this point. Or maybe Steve Blackman? Was mentioned yesterday its plausible. Dean Ambrose does not respect the cameras. PLZ RESPECT THE VIDEO CAMERA SIR THOSE ARE EXPENSIVE
Michael Cole, you know he's done this before why are you acting like he hasn't. Pull yourself together man
Maybe it's Mark Henry's gold chain. Kane, or Big Show, or Great Khali
I'm so happy to see Big Show. Best he's ever looked god damn. The Enzo weight joke on 205 made me snort lol.
NO CRAPS
MASTURBATION JOKE LOL
What's happening right now.
HE'S LOOKING TO NUT LOL
This is bad, why. PUNCH ENZO ON THE T in SAAAWFT BIG SHOW
Big Cass looks like a big Edge from this angle. Also the acoustics in that location are fucking terrible
Goldust, he's coming for you Nigga.
I appreciate that this Alexa Bliss v Nia Jax is appearing multiple times on the same show. Really building a story.
Dat botty too though
It's a reverse welcoming committee. Or Bliss face turn? Hmmmmm



Posts

: 1


Points

: 3


Join date

: 2017-06-07




---
Permissions in this forum:
You
cannot
reply to topics in this forum